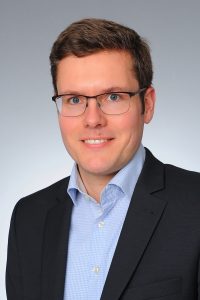 Dr. Jochen Hammes is a resident physician at the Department of Nuclear Medicine at the University Hospital of Cologne and a postdoctoral researcher in the Multimodal Imaging Group. He is especially interested in developing algorithmic methods in multimodal imaging research. See Jochen Hammes' profile on Researchgate.
Selected publications:
Hammes J, Täger P, Drzezga A; EBONI: A tool for automated quantification of bone metastasis load in PSMA PET/CT, J. Nucl. Med. 2017 (accepted for publication)
Hammes J, Leuwer I, Bischof GN, Drzezga A, van Eimeren T; Multimodal correlation of dynamic [18F]-AV-1451 perfusion PET and neuronal hypometabolism in [18F]-FDG PET; Eur J Nucl Med Mol Imaging 2017.
Hammes J, Bischof GN, Drzezga A: Molecular imaging in early diagnosis, differential diagnosis and follow-up of patients with neurodegenerative diseases; Clin Transl Imaging, 2017; 5: 465.
Curriculum vitae (Download CV as PDF):
2015-present
Resident physician and postdoctoral researcher at Department of Nuclear Medicine, University Hospital Cologne
Algorithmic methods in imaging research
Imaging in neurodegenerative diseases
2014-2015
Manager for product development and IT at BetterDoc GmbH, Cologne
Product development, Database design, Userinterface design,
head of development team
2013-2014
Resident physician in neurology
Clinic for Neurology and Palliative Medicine, Clinics of the City of Cologne
2009-2013
Doctoral studies at Dept. of Nuclear Medicine, University Hospital Cologne
Thesis: GATE based Monte Carlo simulation of planar scintigraphy to estimate the nodular dose in radioiodine therapy for autonomous thyroid adenoma
2007-2013
Medical school
University Hospital Cologne, St. Claraspital Basel (CH), Kantonsspital St. Gallen (CH)
Contact
Jochen Hammes, MD
Contact: webmaster@mmni.de